Enquire with our sales team about the Merrychef range.
Big power in a small package
Cook faster and save power with the energy efficient eikon™ e3. The eikon™ e3 is ideal for crispy, tempting baguettes, croissants, snacks and toasted sandwiches. With its particularly compact design and up to 5 x faster preparation times, its three different cooking levels make it the ideal solution for power saving yet fast cooking and baking.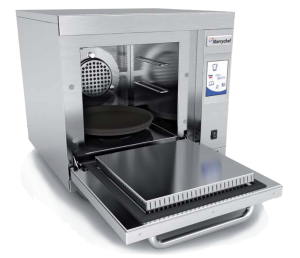 eikon™ e3
the perfect solution for:
• Shops
• Bakeries
• Smaller restaurants
• Butchers with lunch specials
• Snack stands
perfect for the following dishes
• Breakfast pasteries
• Baguettes and rolls
• Batches of breakfast items
• Toasted sandwiches
enjoy these benefits:
• Simple operation with easyToUCH™ Touchscreen control
• Up to 5 x faster preparation times
• Download recipes via the USB port
• Cooking carousel for even browning
• Ventless option available